Uptime is the only time that matters!
Yogurt
You Should Expect Our Yogurt Culture to Blend With Yours.
These days every dairy category is rife with competing
and demands. So we deliberately synchronize our technology to leverage your brainpower. Of all the dairy segments – the yogurt category may well be the most demanding, changeable and complex. Multiple flavor options, product formats, PET, glass, wide-mouth, pouch, single chamber and twin chamber cups and other package geometries, health benefits, retailer display requirements, post-consumer environmental issues all impact your secondary and tertiary yogurt packaging strategy.
Frequent and rapid changeovers are automated to optimize repeatability, accuracy and uptime!
There are multiple mission-critical functions throughout the secondary and tertiary packaging process. When strategically automated and confidently controlled they can add value, improve safety and debottleneck the post-filler processes. System stops and brakes enable intentional stops and starts to maintain targeted infeed rates and orientation into downstream machine centers. Package lift, transfer and package rotate devices are used to optimize seamless package transition at speed or to change the orientation of products on the conveyor for dating or labeling. Package positioners are used to present the packaging prior to a particular process or to streamline lane changes and merges. Other devices will combine multiple products, in sequence, for multipack configurations.
Uptime Matters!
Packaging systems uptime is mission critical. After you've invested all that capital in consumer and retailer feedback, raw materials selection, technology, laboratory research, experienced people, resident brainpower and the primary branded package — who will you trust to case, carton, convey and palletize the ice cream safely from filler to cold storage?
Our facility planning and feasibility team will assess your current packaging technology, physical plant and growth aspirations and work with you to establish performance goals that end with an agreed scope freeze focused on uptime performance.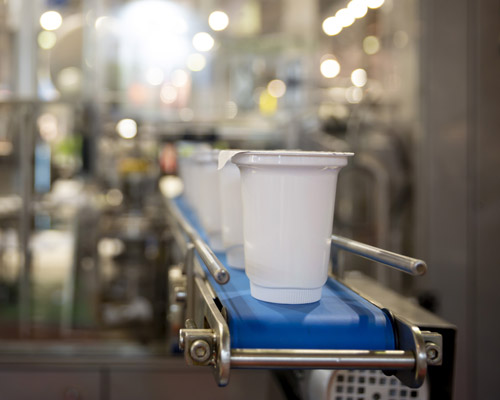 This SURE-thing approach equips us to provide you the best integrated packaging system, or, packaging machine center solution best suited to your plant, your product and your commercials aspirations; including:
Purpose-specific and future-looking features, benefits, advantages.
Functionality and control oriented to your product and production goals and configured to package, or reject, primary packaging that falls outside of targeted retail parameters.
Conveyance, pick-and-place and automation options designed around primary product size, speed and secondary packaging needs.
Best-fit food grade technology from a variety of best-suited OEM's with no risk bacterial harborage, and calculated to reduce washdown time and water consumption.
Depending on your current need, product strategy, retail requirements and production aspirations we can build in an expandable level of automation and the most efficient control, expansion capability, schedule and budget.