Uptime is the only time that matters!
Cheese
Is Your Secondary Packaging Operating the Way it Should? Or is it Whey-Off?
The variety of cheeses requires many packaging formats, shapes and sizes. We're well aware of how much you've invested in terms of process, capital, technology, research and brainpower prior the secondary and end-of-line cheese packaging processes.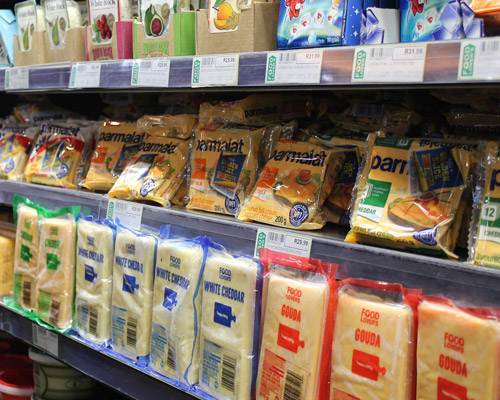 What IPM Brings To The Table
We won't adjust our design credentials, manufacturing quality or our commitment to food safety in your cheese plant. But we will adapt our experience, know-how and service to precisely fit your cheese packaging need. Our pre-design, specification, design, fabrication, assembly, third-party technology solutions and services provides a leading edge turnkey packaging system that can be can be performed in one of three ways:
As a single machine center installation
As a single source (Design-Build) turnkey and integrated packaging line incorporating all secondary and tertiary (end-of-line) machine centers, integration, automation and control
As an engineered hybrid of the above two options
A SURE-Thing Packaging Solution
Our facility planning and feasibility team will assess your current packaging technology, physical plant and growth aspirations and work with you to establish performance goals that end with an agreed scope freeze focused on uptime performance. This SURE-thing approach equips us to provided you the integrated packaging system, or, packaging machine center solution best suited to your plant, your product and your commercials aspirations; including:
Purpose-specific and future-looking features, benefits, advantages
Functionality and control oriented to your product and production goals and configured to package, or reject, primary packaging that falls outside of targeted retail parameters
Conveyance, pick-and-place and automation options designed around primary product size, speed and secondary packaging needs
Best-fit food grade technology from a variety of best-suited OEM's with no risk bacterial harborage, and calculated to reduce washdown time and water consumption.
Depending on your current need, product strategy, retail requirements and production aspirations we can build in a expandable level of automation and the most efficient control, expansion capability, schedule and budget