Uptime is the only time that matters!
SURE-thing Case Packing Solutions
Providing accuracy, speed, and flexibility.
Are you looking for a packaging solution for your business that will provide accuracy, speed and flexibility to your operations? Integrated Packaging Machinery provides custom-built case packing systems that will help improve your business' effectiveness and efficiency.
Benefits of Robotic Case Packing
An IPM case packer can accommodate a wide range of sizes and product types while helping achieve
. Case packing equipment provides gentle handling solutions that protect the integrity of your product or package. Some additional benefits of custom-built case packing machinery includes:
Adjustable pick and place positions

Saving money on reduced labor costs

Capable of using floor space more efficiently

Accommodate a wide range of sizes and product types

Systems are flexible, precise, programmable and portable

Allows products to be stacked or placed on the conveyor upright, inverted, or horizontally

Products can be automatically registered for packing while still protecting package graphics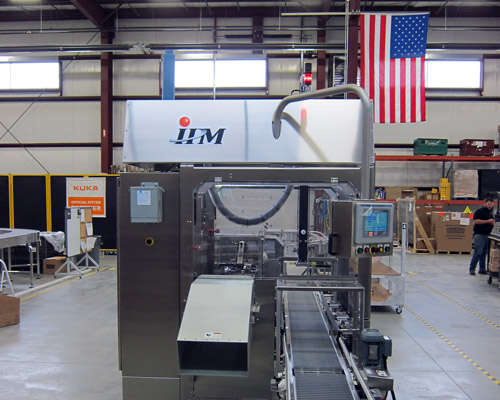 UPTIME IS THE ONLY TIME THAT MATTERS!
Types of Case Packers
Since companies differ in their production process as well as their product line, there is no universally used type of conveyor system. Each conveyor that is designed and built by Integrated Packaging Machinery is unique to our client's business and their operations. Below is a general list of the types of product and case conveyor, robotic palletizer and robotic case packer systems available.
Versa-Pak A Series
High-Speed, Pick and Place Packing
• Servo control for every motion
• Small footprint with flexible design
• Five-minute tool-less changeovers
• Patented Motion Path Technology
• Multiple infeed systems
Versa-Pak G Series
Pick & Place Packing Offers Superior Product Control Over Drop Packing
• High speed, heavy payload, and robotic precision
• Provides dual servo, high-speed indexing, and adjustable flight spacing
• VersaPak and VersaTrak System provides ultimate flexibility
Versa-Pak HV Series
Pick & Place Packing Works Horizontally or Vertically
• Servo control for product handling at high speeds
• Tilted magazine bottom for stability
• Simple Vertical – Horizontal change-over
• VersaTrak system helps eliminate downtime
Why Choose IPM?
By utilizing a unique end of arm tooling designed and built specifically for your products, Integrated Packaging Machinery can design and build a case packer that is customized to meet individual needs. Our IPM case packers maintains constant contact with your products for true "positive" placement and control that is superior to traditional drop packing.