Uptime is the only time that matters!
Fluid Milk
Secondary and End-of-Line Packaging for Refrigerated Dairy
Cow, goat, almond, oat, coconut, soy, cashew, hemp, or any other fluid milk. If it needs to be refrigerated for storage, shipping and retail display then it depends on optimized uptime coming out of the filler. There are multiple steps in an optimized secondary and tertiary packaging process including product handing and inspection, case erecting, robotic product (top, bottom, side) loading, case handling and closing, case labeling, carton packing and palletizing.
Regardless of your primary package type, or types — from gable top to plastic gallon jugs or glass quart bottles the automation and control required to maintain a targeted uptime advantage is critical.
Future Proof Your Post-Filler Packaging Investment
The right solution isn't always the obvious one. Consider the accumulation strategy and the impact product and package type, production speed, and pack patterns will have on process decisions after the filler and before secondary packaging infeed.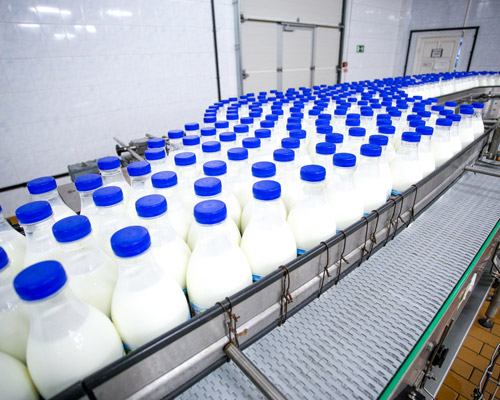 A properly designed transition into the packaging area will prevent product damage and avoid any system stoppages. The optimal accumulation design combine with expert downstream integration prevents jams, spills, primary package damage and marring throughout the secondary packaging process. And that increases uptime.
Now consider best use plant floor space and the transportation conveyor route to cold storage. Then assess the available utilities adjacent to or accessible to the line. Have you considered process control issues and whether or not the downstream packaging line is equipped to seamlessly "shake hands" with your existing ERP system. What about the frequency, timing and speed of product changeovers. Still, at a high level, have you assessed the food safety compliance and ease of washdown capabilities of the entire integrated packaging system.
Finally, what growth aspirations do you need to build into the secondary and end-of-line packaging in order to future-proof the technology decisions you make today?
Uptime Matters!
Packaging systems uptime is mission critical. After you've invested all that capital in consumer and retailer feedback, raw materials selection, technology,
, experienced people, resident brainpower and the primary branded package — who will you trust to case, carton, convey and palletize the ice cream safely from filler to cold storage?
Our facility planning and feasibility team will assess your current packaging technology, physical plant and growth aspirations and work with you to establish performance goals that end with an agreed scope freeze focused on uptime performance.
This SURE-thing approach equips us to provide you the best integrated packaging system, or, packaging machine center solution best suited to your plant, your product and your commercials aspirations; including:
Purpose-specific and future-looking features, benefits, advantages
Functionality and control oriented to your product and production goals and configured to package, or reject, primary packaging that falls outside of targeted retail parameters
Conveyance, pick-and-place and automation options designed around primary product size, speed and secondary packaging needs
Best-fit food grade technology from a variety of best-suited OEM's with no risk bacterial harborage, and calculated to reduce washdown time and water consumption.
Depending on your current need, product strategy, retail requirements and production aspirations we can build in a expandable level of automation and the most efficient control, expansion capability, schedule and budget