Uptime is the only time that matters!
Ice Cream
The Best Way to Get Ice Cream to Cold Storage and Retail Ready
By the time we see your product your production team and your process technology have already added inclusions and mixed select ingredients in precise quantities into a precise blend of taste and texture. You are responsible for preserving the integrity of your recipe. You're also responsible for the quality of the product and the reputation of the brand. You've made targeted investments in the design and functionality of the piping system to the filler.
Our Job is to Make Sure That Your Downstream Packaging Operation Keeps Your Filler Running
Ice cream packaging systems uptime is mission critical. After you've invested all that capital in consumer and retailer feedback, raw materials selection, technology, laboratory research, experienced people, resident brainpower and the primary branded package — who will you trust to case, carton, convey and palletize the ice cream safely from filler to cold storage?
Our facility planning and feasibility team will assess your current packaging technology, physical plant and growth aspirations and work with you to establish performance goals that end with an agreed scope freeze focused on uptime performance.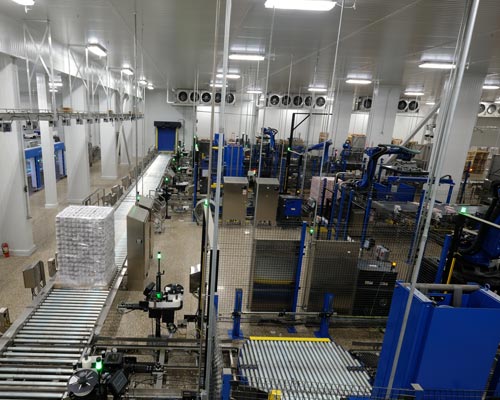 This SURE-thing approach equips us to provide you the best integrated packaging system, or, packaging machine center solution best suited to your plant, your product and your commercials aspirations; including:
Purpose-specific and future-looking features, benefits, advantages
Functionality and control oriented to your product and production goals and configured to package, or reject, primary packaging that falls outside of targeted retail parameters
Conveyance, pick-and-place and automation options designed around primary product size, speed and secondary packaging needs
Best-fit food grade technology from a variety of best-suited OEM's with no risk bacterial harborage, and calculated to reduce washdown time and water consumption.
Depending on your current need, product strategy, retail requirements and production aspirations we can build in a expandable level of automation and the most efficient control, expansion capability, schedule and budget